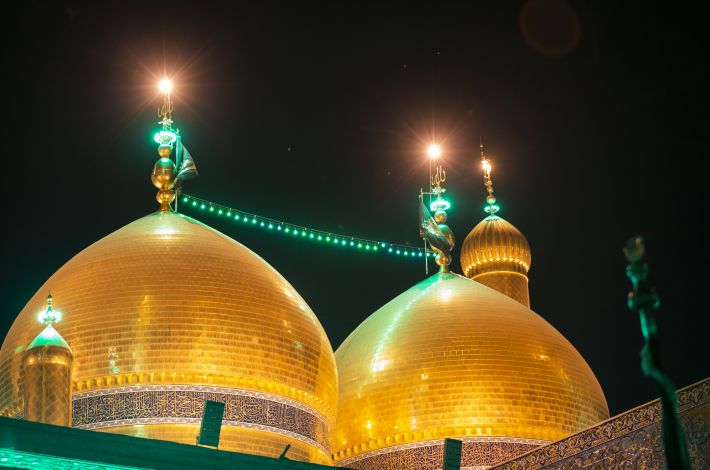 Imam Muhammad b. 'Ali al-Jawad (a)

Muḥammad b. ʿAlī b. Mūsā ( known as Imām al-Jawād (a) was the ninth Imam of
Twelver Shia, his kunya was Abu Ja'far and he is mentioned in haidth sources as Abu Ja'far al-Thani (the second Abu Ja'far). He (a) was born on Rajab 10, 195/April 8, 811 in Medina and was Imam for 17 years. He was martyred when he (a) was 25 years old and was buried in Kadhimiya beside the grave of his grandfather Musa b. Ja'far (a). He was the youngest Imam when he was martyred.
Because Imam al-Jawad was an 8 year old child, some Shi'a followed 'Abd Allah b. Musa and some others followed Waqifids. But most Shi'a accepted the imamate of Imam al-Jawad (a) due to his scientific superiority in spite of his age. At that time, due to restrictions made for Imam (a), his connections with Shi'a were mostly made through agents.
Scientific debates of Imam al-Jawad (a) in his childhood age with religious scholars of different Islamic sects in theological issues such as the position of caliphs and in jurisprudential issues such as hajj rituals are among well-known debates of Imams (a).
Testing for Certainty

Although in several cases Imam al-Rida (a) had declared the imamate of Imam al-Jawad (a),[ but some Shi'a tested Imam al-Jawad (a) with some questions to become more certain.] This testing was made about other Imams (a) as well,[ but due to the low age of Imam al-Jawad (a), Shi'as felt it was more necessary about him.]
There are several reports about Shi'a's questions and answers of Imam al-Jawad (a) in hadith sources. Imam's (a) answers promoted his position in the eyes of Shi'a and their acceptance of his imamate. However, Shi'a did not only tested Imam al-Jawad (a) by their questions, but they tested others, who claimed to be imam, the same way. Some people from Baghdad and other cities went to Medina during hajj. In a meeting they had with 'Abd Allah b. Musa, Imam al-Jawad's (a) uncle,-who was thought to be the Imam after Imam al-Rida (a)- they asked him some questions, but his answers was not right and they became disappointed and sad. Then they went to Imam al-Jawad (a) and asked him the same questions and he (a) gave them the right answers which made them happy, praised Imam (a) and prayed for him

المصدر
الموسوعة الالكترونية لمدرسة اهل البيت عليهم السلام
ويكي شيعة.